Posted by Chathurika Sandarenu
Friday, November 24, 2006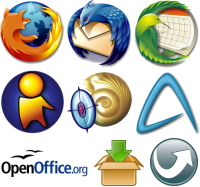 Have you ever wanted to carry you Firefox browser with you with all your carefully organized bookmarks? Now you can do that with PortableApps...
You can carry your FF with all bookmarks , your calendar with all appointment and the list goes on and on. This is a free software suite that you can run from you flash drive. Currenly it support more than 10 applications, including Firefox, Sunbird, Oprenoffice, Thunderbird......
You can try this
PortableApps
site.